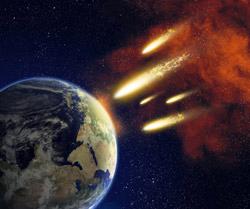 HERE ARE THE MULTIPLE REASONS WHY COMET LINEAR COULD FULFILL THE 6TH SEAL AS WELL AS REVELATION'S TRUMPET JUDGMENTS:

1) COMET LINEAR IS A BRAND NEW, NEVER BEFORE ENCOUNTERED COMET. THUS, THE EXPERTS HAVE NO CERTAINTY OF WHAT IS FORTHCOMING. BASICALLY, "WE WON'T KNOW UNTIL IT HITS US".

2) ON MAY 24th, EARTH WILL PLOW THROUGH A DENSE STREAM OF LINEAR'S DEBRIS. WE WILL CROSS OVER AN ACCUMULATION OF OVER 200 YEARS WORTH OF EJECTED DEBRIS, ALL AT ONCE. WHAT A DELUGE TWO CENTURIES' WORTH OF COMET DEBRIS MIGHT BRING!

NOTE: MAY 24TH IS ALSO ASCENSION DAY, 40 DAYS AFTER PASSOVER'S BLOOD MOON TETRAD.
" the whole moon turned blood red,...and the stars of the sky fell to the earth, as a fig tree casts its unripe figs when shaken by a great wind." Revelation 6:13 3) COMET LINEAR IS AN OLD, FRAGILE COMET THAT COULD EASILY FRAGMENT FROM EARTH'S GRAVITATIONAL PULL WHEN THE COMET ITSELF MAKES ITS VERY CLOSE APPROACH TO EARTH ON MAY 29TH-JUNE 2ND.



NOTE: SHAVUOT/PENTECOST, WHICH HAS MANY RAPTURE CONNOTATIONS, JUST SO HAPPENS TO BE JUNE 3RD!


4) A THEN FRAGMENTED COMET LINEAR COULD FULFILL THE COSMIC SIGNS OF THE TRUMPET JUDGMENTS, AS GOD'S WRATH IS UNLEASHED ON THE LUKEWARM & LOST:
"hail and fire mixed with blood, and it was hurled down on the earth....something like a huge mountain, all ablaze, was thrown into the sea... a great star, blazing like a torch, fell from the sky...a third of the sun was struck, a third of the moon, and a third of the stars, so that a third of them turned dark." Revelation 8:7-12


It is quite plausible that the above outlined events could fulfill the below signs that Yeshua gave us to watch for, just prior to His return for His own:


"There will be signs in the sun, moon and stars. On the earth, nations will be in anguish and perplexity at the roaring and tossing of the sea. people will faint from terror, apprehensive of what is coming on the world, for the heavenly bodies will be shaken." Luke 21:25-26

At the end of next week, Comet Linear will arrive. Indeed, what terror would seize all men if fragments of Comet Linear begin to rain down on the planet.

Comet Linear could well be be the heavenly body that God will use to shake up the Heavens and in turn, shake up the inhabitants of the world.
Do not distress if such celestial events begin to transpire. It may be heralding that it is time for the Beloved of Christ to stand up and lift up our heads, because our redemption is drawing nigh!


At that time they will see the Son of Man coming in a cloud with power and great glory.

When these things begin to take place, stand up and lift up your heads, because your redemption is drawing near."Luke 21:25-28


BECAUSE WE CANNOT KNOW WHAT IS COMING UNTIL COMET LINEAR ACTUALLY ARRIVES, THE TIME TO REPENT, SEEK HOLINESS AND LOVE GOD AND OTHERS MORE THAN YOUR EARTHLY LIFE, IS NOW!

THOSE WHO WAIT UNTIL SUCH EVENTS ARRIVE, MAY WAIT TOO LATE!